IPO Daily News™
Wednesday, 18 January 2017
U.S. SUPREME COURT HEARS CASE ASKING WHETHER DISPARAGEMENT PROVISION OF TRADEMARK ACT IS INVALID UNDER FIRST AMENDMENT
Today the U.S. Supreme Court will hear oral arguments in Lee v. Tam (15-1293), in which the court will consider whether the disparagement provision of Trademark Act section 1052(a) is invalid under the Free Speech Clause of the First Amendment. When Tam sought to register THE SLANTS in connection with "live performances by a musical band," the USPTO rejected the application as disparaging under section 1052(a). On appeal to the Federal Circuit, the original three-judge panel said that substantial evidence supported the USPTO's finding that the mark would likely be "offensive to a substantial composite of people of Asian descent."
The Federal Circuit subsequently vacated that opinion and asked the parties to address whether the bar on registration of disparaging marks violated the First Amendment of the U.S. Constitution. A majority of the Federal Circuit sitting en banc said that the bar on registration "amounts to viewpoint discrimination," which did not survive "the strict scrutiny review appropriate for government regulation of message or viewpoint." Moreover, because the government offered no legitimate interests to justify section 1052(a), "it would be unconstitutional under the intermediate scrutiny traditionally applied to regulation of the commercial aspects of speech."
* * FEDERAL CIRCUIT UPHOLDS DISTRICT COURT'S INDUCED PATENT INFRINGEMENT FINDING AGAINST GENERIC DRUG MANUFACTURER
Eli Lilly and Co. v. Teva Parenteral Medicines, Inc. 15-2067 — On Thursday in an opinion by Chief Judge PROST, the Federal Circuit upheld a district court's induced infringement finding against Teva. Lilly's patents related to methods for treating cancer by pretreating a patient with folic acid and vitamin B12 prior to administering pemetrexed, a chemotherapy drug marketed under the brand ALMITA®. Teva filed an abbreviated new drug application with the FDA seeking to market generic versions of the drug. Lilly argued that the direct infringement required for inducement was divided between physicians and patients. The physicians administered the pemetrexed and folic acid and prescribed and directed patients to self-administer folic acid, which was a condition of the patient's participation in the pemetrexed treatment. The district court found that performance of the claimed steps would be attributable to the physicians.
The Federal Circuit agreed that physicians directed or controlled patients' actions sufficiently to satisfy the test for direct infringement under Akamai V. Teva also had the requisite intent to induce infringement by providing product labeling that unambiguously encouraged or recommended infringement.
(1 to 4 stars rate impact of opinion on patent & trademark law)
IP IN THE MASS MEDIA
Mark Zuckerberg Testifies for Oculus VR in Copyright Infringement and Trade Secret Theft Trial

Yesterday the New York Times reported that Facebook CEO MARK ZUCKERBERG testified in the copyright infringement and trade secret theft suit brought by videogame publisher ZeniMax Media against Oculus VR, the virtual reality company Facebook purchased for $2 billion in 2014. ZeniMax claims that Oculus VR stole elements of its virtual reality headset technology.
---
Law & Advocacy
Friday, February 21, 2014
2014 USPTO BUDGET WILL ALLOW HIRING, SATELLITE OFFICES
During the quarterly meeting of the USPTO's Patent Public Advisory Committee (PPAC), Chief Financial Officer TONY SCARDINO reported that the 2014 appropriations bill signed in January funds the USPTO at $3.024 billion – $90.8 million above the fiscal 2013 enacted level and $238.3 million above the fiscal 2013 sequestration level. The budget will allow the USPTO to hire 1,000 patent examiners and 63 administrative patent judges and provides funding related to opening satellite offices in San Jose, Denver, and Dallas. Projected 2014 spending is estimated at $2.948 billion. The White House will release its fiscal 2015 budget on March 4.
---
Member Advertisement
Innovator Insights
Innovator Insights is IPOEF's forum for inventors and other IP stakeholders to discuss their work, the role IP plays for them and to help educate the public on the link between strong IP protection and robust innovation.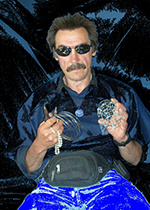 An Artist, an Invention, and the USPTO's Patent Pro Bono Program