IPO Daily News™
Friday, 23 June 2017
*PROVISIONAL APPLICATION DID NOT ENABLE MAKING AND USING INVENTION WITHOUT UNDUE EXPERIMENTATION
Storer v. Clark, 15-1802 — On Wednesday in an opinion by Judge NEWMAN, the Federal Circuit upheld a USPTO decision in an interference proceeding that Storer was not entitled to priority based on an earlier provisional application for the treatment of hepatitis C using modified nucleoside compounds having a flourine substituent in the 2' position. The USPTO found that a person of ordinary skill in the art would not have been able to make and use the class of compounds in the provision application without undue experimentation.
The Federal Circuit agreed. Storer's assertion that the prior art contained a precursor compound a skilled artisan would have recognized was "only one step away from the target compound" was unavailing. "'[T]he specification, not the knowledge of one skilled in the art…must supply the novel aspects of an invention to constitute adequate enablement.'"
(1 to 4 stars rate impact of opinion on patent & trademark law)
USPTO TO HOLD MEETING ON VOLUNTARY INITIATIVES TO COMBAT ONLINE INFRINGEMENT
The U.S. Patent and Trademark Office will hold a "Public Meeting on Voluntary Initiatives To Combat Infringement of Intellectual Property in the Online Environment" at its headquarters in Alexandria, Virginia, on 17 July 2017 from 9:00a.m. to 4:00p.m. ET. The purpose of the meeting is to discuss "the impact of voluntary initiatives undertaken to reduce intellectual property infringement, such as copyright piracy and trademark counterfeiting, that occurs online." The event is described as building on previous USPTO outreach and is part of the Executive Branch's implementation of the FY 2017–2019 Joint Strategic Plan on Intellectual Property Enforcement. The agenda will be published a week before the meeting. Registration information is available on the USPTO's Federal Register notice.
IP IN THE MASS MEDIA
Cipla, Roche Settle Patent Infringement Suit on Lung Cancer Drug

On Thursday Bloomberg Quint reported that Indian drug maker Cipla settled a patent infringement brought against it in India by Roche concerning its lung cancer drug Erlocip.

Court Filing Suggests Uber CEO May Have Been Aware of Trade Secret Theft

On Thursday CNBC reported that former Uber CEO TRAVIS KALANICK might have known that a former engineer stole trade secrets from Waymo, Google's self-driving car unit. Newly filed court documents suggest that Uber had access to stolen files and allowed them to be destroyed.
---
Law & Advocacy
Friday, February 21, 2014
2014 USPTO BUDGET WILL ALLOW HIRING, SATELLITE OFFICES
During the quarterly meeting of the USPTO's Patent Public Advisory Committee (PPAC), Chief Financial Officer TONY SCARDINO reported that the 2014 appropriations bill signed in January funds the USPTO at $3.024 billion – $90.8 million above the fiscal 2013 enacted level and $238.3 million above the fiscal 2013 sequestration level. The budget will allow the USPTO to hire 1,000 patent examiners and 63 administrative patent judges and provides funding related to opening satellite offices in San Jose, Denver, and Dallas. Projected 2014 spending is estimated at $2.948 billion. The White House will release its fiscal 2015 budget on March 4.
---
Member Advertisement
Innovator Insights
Innovator Insights is IPOEF's forum for inventors and other IP stakeholders to discuss their work, the role IP plays for them and to help educate the public on the link between strong IP protection and robust innovation.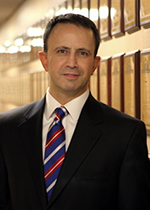 Fatih Ozluturk, Soryn IP Group