IPO Daily News™
Friday, 16 March 2018
IPO COMMENTS ON PATENT WORKING REQUIREMENT IN INDIA
Yesterday IPO Executive Director MARK LAUROESCH submitted IPO's comments to the Government of India on the working of patents under the Patents Act, 1970 (as amended). IPO's comments request removal of the working requirement. To the extent that the working requirement and accompanying working statement continue to be required, IPO urges adoption of changes to the required form. IPO's Asian Practice Committee, co-chaired by JIMMY CHENG (Qualcomm Incorporated) and MICHELLE SHEN (Medtronic, Inc.), assisted with preparing the comments. Special thanks to ASHWANI BALAYAN (ALG India Law Offices LLP) and PRIYA G. PRASAD (Exxon Mobil Corp.) for their contributions.
ENTER THE IP VIDEO CONTEST FOR CHARITY
The IP Video Contest has a new category this year for applicants to enter on behalf of a favorite charity. Select a charity of your choice, create an exciting, 60-second video, and qualify to win a $5,000 donation. To learn more about this opportunity and more, visit IPOEF.org. The contest is open for submissions until 1 July 2018. Help spread the word by forwarding the contest information within your organization or community!
IP IN THE MASS MEDIA
Sports Illustrated Publishes Article about Former MLB Pitcher Turned Counterfeiter

This month Sports Illustrated published an article about former Major League Baseball pitcher BYRON MCLAUGHLIN, who pleaded guilty in 1990 to criminal counterfeiting charges for knocking off Nike, Reebok, and other sneakers and then fled the U.S.

Chanel Sues Vintage Retailer for Trademark Infringement

Yesterday Women's Wear Daily reported that Chanel sued What Goes Around Comes Around for trademark infringement, claiming that the vintage retailer of luxury brands has sold knockoff Chanel products and implied a relationship with Chanel that does not exist.
---
Law & Advocacy
Friday, February 21, 2014
2014 USPTO BUDGET WILL ALLOW HIRING, SATELLITE OFFICES
During the quarterly meeting of the USPTO's Patent Public Advisory Committee (PPAC), Chief Financial Officer TONY SCARDINO reported that the 2014 appropriations bill signed in January funds the USPTO at $3.024 billion – $90.8 million above the fiscal 2013 enacted level and $238.3 million above the fiscal 2013 sequestration level. The budget will allow the USPTO to hire 1,000 patent examiners and 63 administrative patent judges and provides funding related to opening satellite offices in San Jose, Denver, and Dallas. Projected 2014 spending is estimated at $2.948 billion. The White House will release its fiscal 2015 budget on March 4.
---
Member Advertisement
Innovator Insights
Innovator Insights is IPOEF's forum for inventors and other IP stakeholders to discuss their work, the role IP plays for them and to help educate the public on the link between strong IP protection and robust innovation.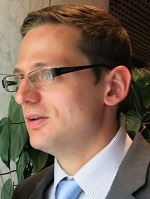 Robert Young, Professor, Lancaster University and Co-Founder/Chief Scientist, Quantum Base