IPO Daily News™
Friday, 24 February 2017
****U.S. SUPREME COURT RULES THAT SUPPLYING SINGLE COMPONENT OF PATENTED INVENTION THAT SUPPLIER'S SUBSIDIARY COMBINED OVERSEAS WAS NOT INDUCEMENT TO INFRINGE
Life Technologies Corp. v. Promega Corp. 14-1538 – Wednesday in an opinion by Justice SOTOMAYOR, the U.S. Supreme Court overruled a decision of the Federal Circuit that supplying a single component of a multi-component invention from the United States is an infringing act under Patent Act section 271(f)(1). Promega's patent claimed a process for examining polymorphism in DNA samples. In a facility overseas, Life Tech's subsidiary produced genetic testing kits that included one component, Taq polymerase, manufactured by Life Tech in the U.S. At issue was whether this component was "a substantial portion" of the invention's components as required under section 271(f)(1) to trigger infringement liability.
The Supreme Court found this term to be ambiguous in isolation, but that the context of the statute and the legislative history pointed to a quantitative rather than a qualitative meaning. Under the quantitative interpretation, as a matter of law, a single component could not constitute "a substantial portion." The Court rejected Promega's "case-specific approach" as compounding the ambiguity and complicating the factfinder's review. Chief Justice ROBERTS did not take part in the decision.
(1 to 4 stars rate impact of opinion on patent & trademark law)
IPO SUPPORTS LEXMARK AT SUPREME COURT
Yesterday IPO filed an amicus brief at the U.S. Supreme Court in Impression Prods., Inc. v. Lexmark Int'l, Inc. IPO argued that 1) the Supreme Court's decision in Quanta does not render all forms of conditional sales or licenses of patented products unlawful, nor should it and 2) the Court's decision in Kirtsaeng does not apply to patents and did not overrule Jazz Photo. The brief was drafted by IPO members ROBERT ISACKSON, WILLIAM COSTON, and JOSHUA CUMBY of Venable LLP.
IP IN THE MASS MEDIA
Australian Court Awards Only $20K in Damages in Suit on Swimwear Designs

Yesterday The Fashion Law blog reported that an Australian federal court found that JB Trading Group Pty Ltd. infringed Ahiida Pty Ltd.'s rights in "burkini" modest swimwear designs but awarded only $20,000 in damages because Ahiida did not suffer damages when the Chinese company imported and sold copies of its designs.
---
Law & Advocacy
Friday, February 21, 2014
2014 USPTO BUDGET WILL ALLOW HIRING, SATELLITE OFFICES
During the quarterly meeting of the USPTO's Patent Public Advisory Committee (PPAC), Chief Financial Officer TONY SCARDINO reported that the 2014 appropriations bill signed in January funds the USPTO at $3.024 billion – $90.8 million above the fiscal 2013 enacted level and $238.3 million above the fiscal 2013 sequestration level. The budget will allow the USPTO to hire 1,000 patent examiners and 63 administrative patent judges and provides funding related to opening satellite offices in San Jose, Denver, and Dallas. Projected 2014 spending is estimated at $2.948 billion. The White House will release its fiscal 2015 budget on March 4.
---
Member Advertisement
Innovator Insights
Innovator Insights is IPOEF's forum for inventors and other IP stakeholders to discuss their work, the role IP plays for them and to help educate the public on the link between strong IP protection and robust innovation.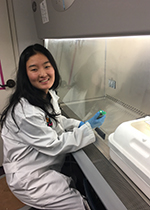 Marin Yamada, Student Inventor, and Elizabeth English of The Archer School for Girls