IPO Daily News™
Thursday, 19 January 2017
IP IN THE MASS MEDIA
Qualcomm Sued by U.S. FTC on Claims of Unfair Licensing Practices

Yesterday BBC News reported that Qualcomm was sued by the U.S. Federal Trade Commission over claims that the chip technology manufacturer "used its dominant position as a supplier of certain baseband processors to impose onerous and anticompetitive supply and licensing terms on cell phone manufacturers to weaken competitors."

Biogen Pays Forward Pharma $1.25B to License Multiple Sclerosis Drug Patents

On Tuesday Reuters reported that Biogen Inc. agreed to pay $1.25 billion to Forward Pharma to license the Danish company's patents related to multiple sclerosis drugs. The companies are still involved in a dispute concerning the patents for the key active ingredient in Biogen's oral MS treatment Tecfidera.
TODAY ON IPO'S IP CHAT CHANNEL: EVIDENCE OF PRIOR ART AT THE PTAB: RIGOROUS PROOF – OR ELSE
Tune in to the IP Chat Channel today at 2:00p.m. ET to learn the latest on Evidence of Prior Art at the PTAB: Rigorous Proof – or Else. The panelists are DAVID CONRAD (Fish & Richardson PC), BRIAN MUDGE (Andrews Kurth Kenyon LLP), and MICHAEL ROSATO (Wilson Sonsini Goodrich & Rosati). IP Chat Channel webinars are recorded and available on our website after the live webinars. CLE granted in many states.
---
Law & Advocacy
Friday, February 21, 2014
2014 USPTO BUDGET WILL ALLOW HIRING, SATELLITE OFFICES
During the quarterly meeting of the USPTO's Patent Public Advisory Committee (PPAC), Chief Financial Officer TONY SCARDINO reported that the 2014 appropriations bill signed in January funds the USPTO at $3.024 billion – $90.8 million above the fiscal 2013 enacted level and $238.3 million above the fiscal 2013 sequestration level. The budget will allow the USPTO to hire 1,000 patent examiners and 63 administrative patent judges and provides funding related to opening satellite offices in San Jose, Denver, and Dallas. Projected 2014 spending is estimated at $2.948 billion. The White House will release its fiscal 2015 budget on March 4.
---
Member Advertisement
Innovator Insights
Innovator Insights is IPOEF's forum for inventors and other IP stakeholders to discuss their work, the role IP plays for them and to help educate the public on the link between strong IP protection and robust innovation.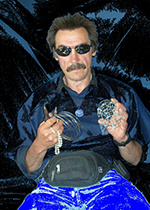 An Artist, an Invention, and the USPTO's Patent Pro Bono Program