IPO Daily News™
Tuesday, 25 April 2017
IPO SUPPORTS LEGISLATION TO CODIFY LACHES DEFENSE IN PATENT LITIGATION
In a meeting yesterday in Washington, DC, the IPO Board of Directors adopted a resolution supporting legislation to amend 35 U.S.C. § 282 to codify the defense of laches in patent litigation, to prevent unfair delay by plaintiffs and protect good-faith investments in innovation. In SCA Hygiene Prods. Aktiebolag v. First Quality Baby Prods., LLC, the U.S. Supreme Court eliminated the laches defense against claims for damages brought within the six-year period established by § 286. The text of all resolutions is available on the IPO website.
IP IN THE MASS MEDIA
Jury Awards Graphic Artist $4M in Copyright Infringement Suit

Yesterday Yahoo! Finance reported that a federal jury in Wisconsin awarded graphic artist AMY SULLIVAN over $4 million in a copyright infringement suit against health care products distributor Flora, Inc. Flora hired Sullivan to create work for advertising but later used her illustrations from previous videos without her consent in new, independent online promotional advertising.

PDL BioPharma and Merck Settle Lawsuit on Keytruda Patent

Yesterday Yahoo! Finance reported that PDL BioPharma, Inc. announced its agreement with Merck & Co., Inc. to settle a patent infringement lawsuit related to Merck's humanized antibody product Keytruda. Merck will pay PDL a one time, lump-sum payment of $19.5 million and PDL BioPharma will grant Merck a patent license for use in connection with Keytruda and a covenant not to sue Merck for any royalties regarding Keytruda.
---
Law & Advocacy
Friday, February 21, 2014
2014 USPTO BUDGET WILL ALLOW HIRING, SATELLITE OFFICES
During the quarterly meeting of the USPTO's Patent Public Advisory Committee (PPAC), Chief Financial Officer TONY SCARDINO reported that the 2014 appropriations bill signed in January funds the USPTO at $3.024 billion – $90.8 million above the fiscal 2013 enacted level and $238.3 million above the fiscal 2013 sequestration level. The budget will allow the USPTO to hire 1,000 patent examiners and 63 administrative patent judges and provides funding related to opening satellite offices in San Jose, Denver, and Dallas. Projected 2014 spending is estimated at $2.948 billion. The White House will release its fiscal 2015 budget on March 4.
---
Member Advertisement
Innovator Insights
Innovator Insights is IPOEF's forum for inventors and other IP stakeholders to discuss their work, the role IP plays for them and to help educate the public on the link between strong IP protection and robust innovation.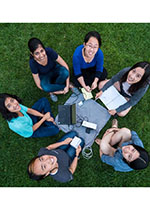 Team Tactile, Massachusetts Institute of Technology