IPO Daily News™
Thursday, May 5, 2016
TIME IS ALMOST UP! REGISTER FOR GIRL SCOUT IP PATCH EVENT TODAY
Brownie and Junior Girl Scouts (and their parents) are invited to join IPO's Women in IP Law Committee and the IPO Education Foundation for a fun-filled event to learn about intellectual property and earn the IP Patch. Join us this Saturday, May 7, 9:00a.m.-2:00p.m. at USPTO headquarters in Alexandria, VA. Girls will participate in hands-on, interactive activities with attorneys and scientists from leading organizations to learn how inventors protect their creations and share them with the world through IP. The event is free, but registration forms must be submitted today through the IPOEF webpage.
TODAY ON IPO'S IP CHAT CHANNEL: FEDERAL TRADE SECRET LAW
Tune in to the IP Chat Channel today, May 5 at 2:00p.m. ET for Federal Trade Secret Law: Getting It Right Early to hear analysis and practical advice on the new federal Defend Trade Secrets Act, which is expected to become law within a few days. Panelists include KEN CORSELLO (IBM Corp.), RANDY KAY (Jones Day), and BRADFORD NEWMAN (Paul Hastings LLP). IP Chat Channel webinars are recorded and available on our website after the live webinars. CLE granted in many states.
IP IN THE MASS MEDIA
Gucci Warns Hong Kong Shops to Stop Selling Paper Replicas of Its Products
Yesterday the New York Times reported that the parent company of luxury goods maker Gucci sent letters to stores in Hong Kong warning them to stop selling paper replicas of Gucci products such as shoes and handbags that feature the company's trademarked name and logos. The paper replicas are intended to be burned as offerings to the deceased.
Southern California to Add J.D. Certificate in Entrepreneurship and Technology Law
Yesterday the Los Angeles Business Journal reported that University of Southern California's Gould School of Law will offer a J.D. certificate in entrepreneurship and technology law, which will offer workshops on licensing negotiations, patent litigation, and patent prosecution.
USPTO PATENT ADVISORY COMMITTEE MEETS TODAY
The Patent Public Advisory Committee will meet today from 9:00a.m. – 3:30p.m. ET in the Madison South Auditorium at the USPTO's Alexandria campus. Topics include patent examination policy, patent quality, patent operations, a financial report, and legislative and international updates. IPO members can attend the public session or watch online. The agenda and a link to the webcast are available on the USPTO website.
---
Law & Advocacy
Friday, February 21, 2014
2014 USPTO BUDGET WILL ALLOW HIRING, SATELLITE OFFICES
During the quarterly meeting of the USPTO's Patent Public Advisory Committee (PPAC), Chief Financial Officer TONY SCARDINO reported that the 2014 appropriations bill signed in January funds the USPTO at $3.024 billion – $90.8 million above the fiscal 2013 enacted level and $238.3 million above the fiscal 2013 sequestration level. The budget will allow the USPTO to hire 1,000 patent examiners and 63 administrative patent judges and provides funding related to opening satellite offices in San Jose, Denver, and Dallas. Projected 2014 spending is estimated at $2.948 billion. The White House will release its fiscal 2015 budget on March 4.
---
Member Advertisement
Innovator Insights
Innovator Insights is IPOEF's forum for inventors and other IP stakeholders to discuss their work, the role IP plays for them and to help educate the public on the link between strong IP protection and robust innovation.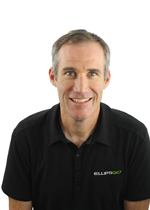 Bryan Pate, Co-Founder, ElliptiGO