IPO Daily News™
Monday, 26 June 2017
* * * PATENT ACT SECTION 145 PERMITS ATTORNEYS' FEES AWARD TO USPTO REGARDLESS OF OUTCOME OF APPLICANT'S DISTRICT COURT APPEAL
Nantkwest, Inc. v. Matal 16-1794 — On Friday in an opinion by Chief Judge PROST, a split Federal Circuit overruled a district court's denial of attorneys' fees to the USPTO. Nantkwest's invention was for a method of treating cancer. After the USPTO rejected Nantkwest's patent claims, and the Patent Trial and Appeal Board upheld the rejection, Nantkwest appealed to the district court. The USPTO prevailed at the district court on the merits and sought $111,696 in fees per Patent Act section 145, which provides that applicants must pay all expenses regardless of outcome. The district court granted the USPTO's expert fees, but denied attorneys' fees under "the American Rule."
The Federal Circuit said that section 145 authorizes an award of attorneys' fees per the Supreme Court's construction of "expenses," dictionary and treatise guidance, and "the context in which Congress applied it." This recognizes "the substantial financial burden that applicants must bear for initiating [section] 145 appeals," and "deter[s] applicants from … procedural gaming." Judge MOORE filed a dissenting opinion in which she argued that section 145 "fails to provide the necessary congressional directive to overcome the American Rule's bar against shifting attorneys' fees."
(1 to 4 stars rate impact of opinion on patent & trademark law)
THIS WEEK ON IPO'S IP CHAT CHANNEL – EXHAUSTION UNLEASHED: LICENSING, PATENTING STRATEGY, AND LITIGATION AFTER LEXMARK
Tune in to the IP Chat Channel on Wednesday, 28 June, at 2:00p.m. ET for Exhaustion Unleashed: Licensing, Patenting Strategy, and Litigation After Lexmark. Our panelists are licensing expert PAUL JAHN (Morrison & Foerster LLP), pharma IP chief WILLIAM KROVATIN (Merck Co, Inc.), and litigator RICHARD RAINEY (Covington & Burling LLP). The panel will explore the significant ramifications of the recent U.S. Supreme Court decision in Impression Products v. Lexmark. The Supreme Court ruled that the Federal Circuit has been wrong both to allow domestic post-sale restrictions under patent law and to allow U.S. patent owners to sue for infringement of products imported into the U.S. that the patentee first sold abroad. The Supreme Court's opinion notes, "We conclude that a patentee's decision to sell a product exhausts all of its patent rights in that item, regardless of any restrictions the patentee purports to impose or the location of the sale."
Our panelists will discuss how companies should react to the newly-fortified power of exhaustion, including:
• Structuring licenses as a way around exhaustion;
• Antitrust concerns about enforcing post-sale restrictions through contracts after Lexmark;
• Structuring patent ownership, supply chain management, and inventory management to reduce exhaustion, and important tax implications.
IP Chat Channel webinars are recorded and available on our website after the live webinars. CLE granted in many states.
IP IN THE MASS MEDIA
Magazine Writer Sues Creators of Tupac Biopic for Copyright Infringement

Today the New York Post's "Page Six" reported that writer KEVIN POWELL sued Lionsgate and other creators of TUPAC SHAKUR biopic All Eyez on Me for copyright infringement, claiming that the film is based on his articles and interviews with the rapper for Vibe magazine.
---
Law & Advocacy
Friday, February 21, 2014
2014 USPTO BUDGET WILL ALLOW HIRING, SATELLITE OFFICES
During the quarterly meeting of the USPTO's Patent Public Advisory Committee (PPAC), Chief Financial Officer TONY SCARDINO reported that the 2014 appropriations bill signed in January funds the USPTO at $3.024 billion – $90.8 million above the fiscal 2013 enacted level and $238.3 million above the fiscal 2013 sequestration level. The budget will allow the USPTO to hire 1,000 patent examiners and 63 administrative patent judges and provides funding related to opening satellite offices in San Jose, Denver, and Dallas. Projected 2014 spending is estimated at $2.948 billion. The White House will release its fiscal 2015 budget on March 4.
---
Member Advertisement
Innovator Insights
Innovator Insights is IPOEF's forum for inventors and other IP stakeholders to discuss their work, the role IP plays for them and to help educate the public on the link between strong IP protection and robust innovation.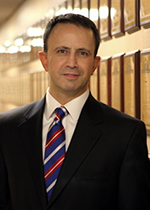 Fatih Ozluturk, Soryn IP Group