2016 IPO Annual Meeting
Early Bird Pricing Ends in...

IP Chat Channel Webinars
Learn More or Register Online
July 6 at 3pm ET:After Cuozzo
Double Header: European IP After Brexit: Copyright & Trademarks (July 13) and Patents & Design Patents (July 14)

IPO Daily News™
Friday, 1 July 2016
36 FEDERAL CIRCUIT AND 3 SUPREME COURT OPINIONS ISSUED IN SECOND QUARTER
Federal Circuit
IPO's plain English, one-paragraph summaries of Federal Circuit precedential patent and trademark opinions from the second quarter of 2016 are available on the IPO website. The 36 summaries are arranged in date order and rated with 1 to 4 stars. Some noteworthy Federal Circuit cases:
HP Inc., 5 April, in which the estoppel provision in Patent Act section 315 did not apply to non-instituted grounds in inter partes review (IPR) proceedings;
TC Heartland, 29 April, in which the Federal Circuit held that Congress had not altered the prevailing law on venue in patent cases;
Enfish, 12 May, in which claims directed to a specific improvement in computer operation were patent-eligible subject matter;
Aqua Products, 25 May, in which the patent owner in an IPR must show that substitute claims are patentable over the prior art of record;
SAS Institute, 10 June, in which the USPTO improperly changed claim construction theories during IPR;
Immersion, 21 June, in which a continuation application may be filed on the same day the parent patent issues; and
Ethicon, 22 June, in which the Federal Circuit denied an en banc rehearing on whether institution of an IPR and a final decision by the same panel violated due process.
Supreme Court
The U.S. Supreme Court issued 3 IP-related opinions in the second quarter:
In Cuozzo, the Supreme Court upheld the broadest reasonable interpretation for claim construction in IPR proceedings;
Kirtsaeng held that courts have discretion to award attorney's fees under the Copyright Act even when the losing party's position was reasonable; and
Halo, in which the court rejected Seagate's unduly rigid test for enhanced infringement damages under Patent Act section 284.
PERRY+CURRIER INC. TO SPONSOR IPO'S ANNUAL MEETING
Perry+Currier will sponsor the Women in IP Networking Brunch at the 11-13 Sept. 2016 IPO Annual Meeting in New York, NY.
IP IN THE MASS MEDIA
Amazon Inspire Receives Copyright Infringement Complaints

On Wednesday the New York Times reported that Amazon's new "Amazon Inspire," a free instructional resources site for teachers, was required to remove materials posted to the site after receiving copyright infringement complaints.

Former USPTO Director Writes on Indian Antitrust Regulators' Actions on Standards Setting, IP Licensing

Last week Fortune published an article by former U.S. Patent and Trademark Office Director DAVID KAPPOS discussing the effects India's Department of Industrial Policy and Promotion's published inquiry on standard setting and licensing intellectual property might have on the country's mobile telecommunications market. (Yahoo.Finance)
JULY FEDERAL CIRCUIT ARGUMENTS POSTED
The Federal Circuit oral argument schedule for July is now available.
---
Law & Advocacy
Friday, February 21, 2014
2014 USPTO BUDGET WILL ALLOW HIRING, SATELLITE OFFICES
During the quarterly meeting of the USPTO's Patent Public Advisory Committee (PPAC), Chief Financial Officer TONY SCARDINO reported that the 2014 appropriations bill signed in January funds the USPTO at $3.024 billion – $90.8 million above the fiscal 2013 enacted level and $238.3 million above the fiscal 2013 sequestration level. The budget will allow the USPTO to hire 1,000 patent examiners and 63 administrative patent judges and provides funding related to opening satellite offices in San Jose, Denver, and Dallas. Projected 2014 spending is estimated at $2.948 billion. The White House will release its fiscal 2015 budget on March 4.
---
Member Advertisement
Innovator Insights
Innovator Insights is IPOEF's forum for inventors and other IP stakeholders to discuss their work, the role IP plays for them and to help educate the public on the link between strong IP protection and robust innovation.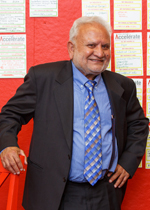 Anil Jha: Leading the World to More Eco-Friendly Water