IPO Daily News™
Friday, 26 May 2017
TRUMP 2018 BUDGET FUNDS USPTO AT $3.586 BILLION, ALLOWS ACCESS TO ALL FEE COLLECTIONS
On Tuesday President TRUMP unveiled his 2018 budget recommendations to Congress, which included recommendations for the USPTO and other IP-related agencies. Under the Trump budget, the USPTO would be authorized to spend up to $3.586 billion, an increase of $422 million over projected 2017 patent and trademark fee collections of $3.164 billion. (See the numbers at pages 199-200 of the Commerce Department's Appendix to the Budget.) The USPTO's 2018 Congressional Budget Request, which was also published on Tuesday, clarifies that the collection estimates are based on trademark fee adjustments that became effective in January 2017 and proposed patent fee increases expected to take effect in fiscal year 2018.
The budget would give the USPTO access to all user fees collected in 2018. The budget states that the "USPTO will continue its aggressive patent pendency reduction agenda to reduce overall pendency and backlog over the next three years." It will also support the USPTO's "efforts to address abusive patent litigation practices and repeats the President's call for Congress to enact legislation that promotes greater transparency in the U.S. patent system and prevents frivolous lawsuits that stifle innovation."
NEXT WEEK ON IPO'S IP CHAT CHANNEL — ON-SALE BAR AFTER HELSINN: WHAT IS THE SCOPE?
Tune in to the IP Chat Channel on Thursday, 1 June, at 2:00p.m. ET for a webinar on the ramifications of the Federal Circuit's April decision in Helsinn v. Teva. That opinion reversed a lower court by holding that the 2011 America Invents Act on-sale bar provision renders a patent invalid if the invention was sold prior to patenting, even if the sale did not publicly disclose the invention. Helsinn appears to be consistent with a long line of cases about secret sales, including Metallizing. But some in-house counsel, particularly in pharma and other regulated industries, are concerned about the facts of the case, in which the public disclosure of a private purchase-and-supply agreement between Helsinn and a third-party distributor was found invalidating. They worry that many contracts regularly inked by their in-house clients prior to filing patent applications will now need the added scrutiny of IP counsel. And if such transactions are known by the prosecuting patent attorney, will they have to be disclosed to the USPTO? Our panelists are Prof. DENNIS CROUCH, author of the Patently-O blog (University of Missouri), life science litigator DEBORAH FISHMAN (Arnold & Porter Kaye Scholer LLP), and in-house counsel JENNIFER JOHNSON (DuPont).
IP Chat Channel webinars are recorded and available on our website after the live webinars. CLE granted in many states.
IP IN THE MASS MEDIA
PayPal Sues Pandora on "P" Logo

On Tuesday ArsTechnica reported that PayPal sued music streaming company Pandora for trademark infringement, claiming Pandora's recently-adopted "P" logo is confusingly similar to PayPal's logo.

Hulu Says No to Renewing License with TiVo Due to Expired Patents

Yesterday BroadbandTVNews.com reported that Hulu sued TiVo alleging that it does not need to renew an expired license agreement because three of TiVo's patents covered by the agreement are expired or no longer relevant and that TiVo breached the agreement by publicizing its licenses to Hulu's competitors.
---
Law & Advocacy
Friday, February 21, 2014
2014 USPTO BUDGET WILL ALLOW HIRING, SATELLITE OFFICES
During the quarterly meeting of the USPTO's Patent Public Advisory Committee (PPAC), Chief Financial Officer TONY SCARDINO reported that the 2014 appropriations bill signed in January funds the USPTO at $3.024 billion – $90.8 million above the fiscal 2013 enacted level and $238.3 million above the fiscal 2013 sequestration level. The budget will allow the USPTO to hire 1,000 patent examiners and 63 administrative patent judges and provides funding related to opening satellite offices in San Jose, Denver, and Dallas. Projected 2014 spending is estimated at $2.948 billion. The White House will release its fiscal 2015 budget on March 4.
---
Member Advertisement
Innovator Insights
Innovator Insights is IPOEF's forum for inventors and other IP stakeholders to discuss their work, the role IP plays for them and to help educate the public on the link between strong IP protection and robust innovation.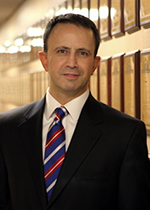 Fatih Ozluturk, Soryn IP Group