IPO Daily News™
Wednesday, 26 April 2017
ATTORNEY FEE SHIFTING IN PATENT SUITS IN U.S. DISTRICT COURTS: QUARTERLY REPORT
During the first quarter of 2017 (1 January- 31 March), 27 motions for attorney fees were decided in the U.S. District Courts. Patent owners filed 8 (30%) of the motions and accused infringers filed 19 (70%). A breakdown of motions granted and denied is below.
Motions Granted — 7 (26%)
• Patent Owner – 2
• Accused Infringer – 5

Motions Denied — 20 (74%)
• Patent owner – 6
• Accused infringer – 14
A full list of opinions is available on the IPO website.
IP IN THE MASS MEDIA
Nikon Sues ASML, Zeiss over Semiconductor Lithography Technology

On Monday ABC News reported that Nikon Corp. sued Dutch company ASML Holding N.V. and its supplier Carl Zeiss SMT GmbH for infringing Nikon patents on immersion lithography technology used to make semiconductors for smartphones, memory chips, and other products.

Ardagh to Appeal $50M Patent Infringement Award

Yesterday The Irish Times reported that Ardagh Group will appeal a $50.3 million jury award in a suit brought against it by Green Mountain claiming Ardagh infringed a patent on technology to turn mixed-color glass into recycled glass of a single color.
---
Law & Advocacy
Friday, February 21, 2014
2014 USPTO BUDGET WILL ALLOW HIRING, SATELLITE OFFICES
During the quarterly meeting of the USPTO's Patent Public Advisory Committee (PPAC), Chief Financial Officer TONY SCARDINO reported that the 2014 appropriations bill signed in January funds the USPTO at $3.024 billion – $90.8 million above the fiscal 2013 enacted level and $238.3 million above the fiscal 2013 sequestration level. The budget will allow the USPTO to hire 1,000 patent examiners and 63 administrative patent judges and provides funding related to opening satellite offices in San Jose, Denver, and Dallas. Projected 2014 spending is estimated at $2.948 billion. The White House will release its fiscal 2015 budget on March 4.
---
Member Advertisement
Innovator Insights
Innovator Insights is IPOEF's forum for inventors and other IP stakeholders to discuss their work, the role IP plays for them and to help educate the public on the link between strong IP protection and robust innovation.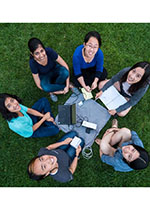 Team Tactile, Massachusetts Institute of Technology