IPO Daily News™
Friday, 21 July 2017
IP IN THE MASS MEDIA
New York Judge Throws Out Copyright Infringement Suit Against Ethiopian Cookbook Author

Yesterday the New York Law Journal reported that a federal judge in New York threw out a copyright infringement case brought by Ethiopian cookbook author IAN SCHLEIFER against KITTEE BERNS, stating that "to the extent the two works have general similarities—including the fact that both are about vegetarian or vegan Ethiopian cuisine, the inclusion of illustrations of prepared dishes, and descriptions of foods as spicy, spongy, or the like—these elements simply do not amount to a claim for copyright violation."
LYNNE BOISINEAU PROVIDES IPO ANNUAL MEETING SESSION PREVIEW
The Right of Publicity is a mechanism for protecting the name, voice, image, likeness, signature, or photograph of a particular person that has been around since the mid-1900s. However, with the advent of the Internet, and more specifically, social media, the Right of Publicity has become an area fraught with potential missteps, many of which are actionable under state statute, or sometimes under common law, with an erratic treatment depending on the state in the U.S. where the acts occurred. There are certain guidelines and steps that companies can take to minimize Right of Publicity risks that will be featured in IPO's Annual Meeting opening trademark session on Monday, 18 September, at 9:00a.m. Click here to read the full preview written by LYNNE BOISINEAU (McDermott Will & Emery).
---
Law & Advocacy
Friday, February 21, 2014
2014 USPTO BUDGET WILL ALLOW HIRING, SATELLITE OFFICES
During the quarterly meeting of the USPTO's Patent Public Advisory Committee (PPAC), Chief Financial Officer TONY SCARDINO reported that the 2014 appropriations bill signed in January funds the USPTO at $3.024 billion – $90.8 million above the fiscal 2013 enacted level and $238.3 million above the fiscal 2013 sequestration level. The budget will allow the USPTO to hire 1,000 patent examiners and 63 administrative patent judges and provides funding related to opening satellite offices in San Jose, Denver, and Dallas. Projected 2014 spending is estimated at $2.948 billion. The White House will release its fiscal 2015 budget on March 4.
---
Member Advertisement
Innovator Insights
Innovator Insights is IPOEF's forum for inventors and other IP stakeholders to discuss their work, the role IP plays for them and to help educate the public on the link between strong IP protection and robust innovation.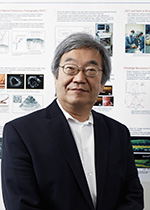 James G. Fujimoto, Department of Electrical Engineering and Computer Science, MIT