IPO Daily News™
Friday, 23 March 2018
TRUMP IMPOSES TARIFFS ON CHINA FOR "TREMENDOUS INTELLECTUAL PROPERTY THEFT"
Yesterday President TRUMP signed a Presidential memorandum imposing tariffs on Chinese goods totaling about $60 billion and restricting Chinese investment in the U.S. as a penalty for "tremendous intellectual property theft." The President also directed U.S. Trade Representative ROBERT LIGHTHIZER to pursue dispute settlement in the World Trade Organization to address China's technology licensing practices. Mr. Lighthizer published a lengthy report detailing the results of USTR's section 301 investigation into China's trade practices, which he said concluded that "China does have a policy of forced technology transfer; of requiring licensing at less than economic value; of state capitalism, wherein they go in and buy technology in the United States in non-economic ways; and then, finally, of cyber theft."
MEXICO PUBLISHES AMENDMENTS TO IP LAWS
Last week the government of Mexico published amendments to its Industrial Property Law in its Official Gazette. Areas addressed include patents, industrial designs, denominations of origin, and geographical indications. The amendments are scheduled to come into effect late next month.
IP IN THE MASS MEDIA
Bloomberg Writes on China and IP

Yesterday Bloomberg Politics published an article titled "What's Intellectual Property and Does China Steal It?" that discusses President Trump's imposition of trade restrictions on China.

Operator of Music Sharing Sites Convicted of Criminal Copyright Infringement

Yesterday the Associated Press reported that a court in Atlanta, Georgia convicted ARTUR SARGSYAN for criminal copyright infringement. Sargsyan operated a music-sharing website called Sharebeast.com and other websites that facilitated the illegal download of about a billion copyrighted works over a three-year period.

Macy's Sues Owners of Scottish Hair Salon for Trademark Infringement

Yesterday the U.K.'s Daily Mail reported that Macy's retail chain sued the owners of a hair salon in Scotland, named Macy's Lounge in honor of the owners' daughter, for trademark infringement. The owners subsequently changed the shop's name to "Maciz Lounge."
---
Law & Advocacy
Friday, February 21, 2014
2014 USPTO BUDGET WILL ALLOW HIRING, SATELLITE OFFICES
During the quarterly meeting of the USPTO's Patent Public Advisory Committee (PPAC), Chief Financial Officer TONY SCARDINO reported that the 2014 appropriations bill signed in January funds the USPTO at $3.024 billion – $90.8 million above the fiscal 2013 enacted level and $238.3 million above the fiscal 2013 sequestration level. The budget will allow the USPTO to hire 1,000 patent examiners and 63 administrative patent judges and provides funding related to opening satellite offices in San Jose, Denver, and Dallas. Projected 2014 spending is estimated at $2.948 billion. The White House will release its fiscal 2015 budget on March 4.
---
Member Advertisement
Innovator Insights
Innovator Insights is IPOEF's forum for inventors and other IP stakeholders to discuss their work, the role IP plays for them and to help educate the public on the link between strong IP protection and robust innovation.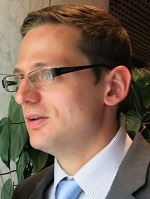 Robert Young, Professor, Lancaster University and Co-Founder/Chief Scientist, Quantum Base