IPO Daily News™
Friday, 21 April 2017
IP IN THE MASS MEDIA
Artist Claims Fair Use in Instagram Artwork Dispute

Yesterday The Fashion Law blog reported that artist RICHARD PRINCE is claiming fair use as the defense against two separate copyright infringement suits brought against him by commercial, editorial, and fine art photographer ERIC MCNATT and Los Angeles-based photographer DONALD GRAHAM. Each claims Prince used an unlawful derivative copy of their photographs in his "New Portraits" Instagram Exhibition.

Dell Loses "Unity" Trademark Suit

On Wednesday the Boston Business Journal reported that a federal judge ruled that California-based data storage company Nexsan Technologies Inc. had priority over Dell Technologies in the use of the mark "Unity" that both companies were using in connection with new hardware technology. Dell began using the name "Unity" sporadically during beta testing and pre-marketing presentations in 2015. Nexsan filed an application to register the mark with the U.S. Patent and Trademark Office more than a month before Dell in 2016.
---
Law & Advocacy
Friday, February 21, 2014
2014 USPTO BUDGET WILL ALLOW HIRING, SATELLITE OFFICES
During the quarterly meeting of the USPTO's Patent Public Advisory Committee (PPAC), Chief Financial Officer TONY SCARDINO reported that the 2014 appropriations bill signed in January funds the USPTO at $3.024 billion – $90.8 million above the fiscal 2013 enacted level and $238.3 million above the fiscal 2013 sequestration level. The budget will allow the USPTO to hire 1,000 patent examiners and 63 administrative patent judges and provides funding related to opening satellite offices in San Jose, Denver, and Dallas. Projected 2014 spending is estimated at $2.948 billion. The White House will release its fiscal 2015 budget on March 4.
---
Member Advertisement
Innovator Insights
Innovator Insights is IPOEF's forum for inventors and other IP stakeholders to discuss their work, the role IP plays for them and to help educate the public on the link between strong IP protection and robust innovation.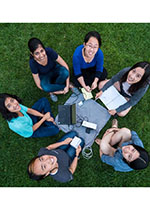 Team Tactile, Massachusetts Institute of Technology