IPO Daily News™
Friday, 18 August 2017
IP IN THE MASS MEDIA
Ericsson Sues Wiko on Cellular Technology SEPs

Yesterday Reuters reported that Ericsson sued French-Chinese smartphone company Wiko in Germany for infringing standard essential patents related to 2G, 3G, and 4G cellular technology.

Chateau Marmont Warns Pet Spa Cateau Marmont of Possible Trademark Infringement

On Wednesday US Weekly reported that Los Angeles, California's famed hotel Chateau Marmont sent a letter warning Los Angeles cat spa "Cateau Marmont" that it will take legal action unless the cat grooming and boarding service changes its name.

Guardian Reports on Toblerone Trademark Suit

Yesterday UK's Guardian reported on a trademark dispute between Toblerone and budget chain Poundland concerning the distinctiveness of Toblerone candy bars' triangular prism shape.
INTERESTED IN JOINING AN IPO STANDING IP COMMITTEE?
Learn more about one of IPO's Standing IP Committees at this year's Annual Meeting in San Francisco, California. 26 committees will host one-hour business meetings on Sunday, 19 September. All registered attendees are welcome to attend. For more information or to register, visit www.ipo.org/am2017.
LEYDIG, VOIT & MAYER, LTD. TO SPONSOR IPO'S ANNUAL MEETING
The Monday Breakfast and Breaks at the 17-19 September 2017 IPO Annual Meeting in San Francisco, California, will be sponsored by Leydig, Voit & Mayer, Ltd.
---
Law & Advocacy
Friday, February 21, 2014
2014 USPTO BUDGET WILL ALLOW HIRING, SATELLITE OFFICES
During the quarterly meeting of the USPTO's Patent Public Advisory Committee (PPAC), Chief Financial Officer TONY SCARDINO reported that the 2014 appropriations bill signed in January funds the USPTO at $3.024 billion – $90.8 million above the fiscal 2013 enacted level and $238.3 million above the fiscal 2013 sequestration level. The budget will allow the USPTO to hire 1,000 patent examiners and 63 administrative patent judges and provides funding related to opening satellite offices in San Jose, Denver, and Dallas. Projected 2014 spending is estimated at $2.948 billion. The White House will release its fiscal 2015 budget on March 4.
---
Member Advertisement
Innovator Insights
Innovator Insights is IPOEF's forum for inventors and other IP stakeholders to discuss their work, the role IP plays for them and to help educate the public on the link between strong IP protection and robust innovation.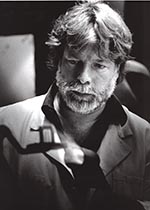 Igor Ustinov: Artist, Philanthropist, and Inventor