IPO Daily News™
Monday, 25 September 2017
* * * * FEDERAL CIRCUIT CLARIFIES "REGULAR AND ESTABLISHED PLACE OF BUSINESS" FOR PATENT VENUE
In Re Cray, Inc., 17-129 — On 21 September in an opinion by Judge LOURIE, the Federal Circuit granted Cray's mandamus petition directing the district court to transfer after determining an appropriate venue. Raytheon sued Cray for patent infringement in the U.S. District Court for the Eastern District of Texas. The court denied Cray's motion to transfer, finding that allowing an employee to work remotely from his home in the district was sufficient to demonstrate that Cray maintained a "regular and established place of business" in the district within the meaning of § 1400(b).
The Federal Circuit said the district court abused its discretion in denying the motion because its analysis was not appropriately grounded in the language of the statute. To find venue proper, the statute required: 1) a physical location in the district that was 2) "regular and established" and 3) "the place of the defendant." Cray's employee did not maintain products or marketing literature in his home. Cray did not own, lease, or rent any portion of the home or participate in selecting its location and no evidence showed that the company specifically intended to have a place of business in the district. Taken together, these facts showed only that "there exist[ed] within the district a physical location where an employee of the defendant carrie[d] on certain work for his employer," which did not support a finding that the employee's home was Cray's regular and established place of business.
(1 to 4 stars rate impact of opinion on patent & trademark law)
* INDEPENDENT DOCUMENTARY EVIDENCE SUPPORTED INVENTOR'S TESTIMONY RE: CONCEPTION
NFC Tech., LLC v. Matal, 16-1808 — On 20 September in a decision by Judge LOURIE, the Federal Circuit reversed a USPTO inter partes review decision that NFC's claims for a "near-field communication device" were obvious. NFC argued that the inventor had reduced the invention to practice prior to the priority date of the "Sears" reference. The USPTO said that NFC had failed to establish that the inventor had conceived of the subject matter of the claims and thus that the fabrication of a prototype by a third party inured to its benefit.
The Federal Circuit said that NFC's independent documentary evidence "adequately corroborated" the inventor's testimony related to conception and that the creation of the prototype inured to the inventor's benefit. USPTO findings to the contrary were "either inconsistent with the documents themselves" or did not "adequately consider the portions of the documents that support[ed] corroboration." The court remanded for a determination of whether the prototype embodied the claimed invention for the purpose of antedating the prior art reference.
(1 to 4 stars rate impact of opinion on patent & trademark law)
TWO WEBINARS NEXT WEEK ON IPO'S IP CHAT CHANNEL: USPTO ON RESTRICTION PRACTICE, TERMINAL DISCLAIMERS, & PATENT TERM ADJUSTMENT and ITC UPDATE: BRUSHING OFF THE PTAB AND OTHER RECENT DEVELOPMENTS
Tune in to the IP Chat Channel on Tuesday, 26 September, at 2:00p.m. ET to hear a USPTO expert discuss Restriction Practice, Terminal Disclaimers, and Patent Term Adjustment with two veteran patent prosecutors. Topics include how a patent applicant can make sure that the subsequent application falls into the Section 121 "safe harbor" while also garnering the longest protection through patent term adjustment and lessons learned from cases such as Hagenbuch v. Sonrai (ED Ill., 2016) on the potential danger of filing an ill-worded terminal disclaimer and Janssen v. Celltrion (D. Mass., 2016) on serious consequences from filing a continuation instead of a divisional. The panelists are KATHLEEN FONDA (USPTO), JEFFREY HOHENSHELL (Medtronic), and KEVIN NOONAN (McDonnell, Boehnen, Hulbert & Berghoff).
On Wednesday, 27 September, at 2:00p.m. ET get an ITC Update from an in-house counsel who manages ITC litigation for a technology company and two veteran ITC litigators at law firms. The institution of IP cases at the ITC rose last year to a five-year high and is on an even faster pace so far this year. Panelists LAUREN HOFFER (Dell), G. BRIAN BUSEY (Morrison & Foerster), and BLANEY HARPER (Jones Day) will examine a number of important recent issues relating to ITC practice, including a case in which the ITC is continuing a ban on imports by a respondent even after a PTAB final written decision finding all claims of the asserted patents invalid; the latest on domestic industry, including a recent decision in which an ITC judge found that investments by the patent holder's licensee can satisfy the requirement; how the wider definition of domestic industry makes it easier for a company that settled with an NPE to be dragged into a suit against a different respondent; and an update on the 100-day Pilot Program, including how a respondent has used it to get a quick decision on Section 101 patent eligibility.
IP Chat Channel webinars are recorded and available on our website after the live webinars. CLE granted in many states.
IP IN THE MASS MEDIA
"John Lemon" Drink to Be Renamed Following Threat of Litigation

Last week Thomson Reuters reported that a Polish beverage company will rename its new "John Lemon" drink after late Beatle JOHN LENNON's widow YOKO ONO threatened to sue for infringement of her late husband's trademarks.
---
Law & Advocacy
Friday, February 21, 2014
2014 USPTO BUDGET WILL ALLOW HIRING, SATELLITE OFFICES
During the quarterly meeting of the USPTO's Patent Public Advisory Committee (PPAC), Chief Financial Officer TONY SCARDINO reported that the 2014 appropriations bill signed in January funds the USPTO at $3.024 billion – $90.8 million above the fiscal 2013 enacted level and $238.3 million above the fiscal 2013 sequestration level. The budget will allow the USPTO to hire 1,000 patent examiners and 63 administrative patent judges and provides funding related to opening satellite offices in San Jose, Denver, and Dallas. Projected 2014 spending is estimated at $2.948 billion. The White House will release its fiscal 2015 budget on March 4.
---
Member Advertisement
Innovator Insights
Innovator Insights is IPOEF's forum for inventors and other IP stakeholders to discuss their work, the role IP plays for them and to help educate the public on the link between strong IP protection and robust innovation.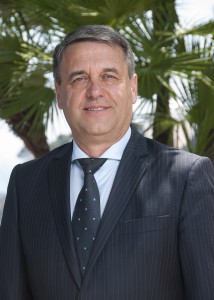 Mircea Tudor: Founder, Tudor Scan Tech