IPO Daily News™
Tuesday, May 31, 2016
* EXTRINSIC EVIDENCE COULD NOT BE USED TO CONTRADICT PATENT CLAIM MEANING THAT WAS UNAMBIGUOUS IN LIGHT OF INTRINSIC RECORD
David Netzer Consulting Engineering LLC v. Shell Oil, Co. 15-2806 — On Friday, in an opinion by Judge LOURIE, the Federal Circuit upheld a district court summary judgment of no infringement. Netzer's patent claimed a process for the production of ethylene and benzene that included a "fractionating" step. Shell argued that "fractionating" should be construed to mean conventional distillation, i.e., separating compounds based on differences in boiling points. Netzer argued that fractionating meant separating a mixture into fractions, no matter the process used. The district court did not formally construe the claims but found that Shell did not infringe because it used conventional extraction rather than fractionation.
The Federal Circuit agreed that fractionating meant separating compounds based on differences in boiling points, which excluded Shell's extraction process. "The specification repeatedly and consistently" used the term "fractionating" to describe separating compounds based on boiling points. During prosecution Netzer also "made clear and unmistakable statements" that distinguished the claimed invention from conventional extraction methods. Extrinsic evidence could not be used to contradict claim meaning that was unambiguous in light of the intrinsic record.
(1 to 4 stars rate impact of opinion on patent & trademark law)
IPO SUBMITS COMMENTS ON PROPOSED TTAB RULES
On Friday IPO Executive Director MARK LAUROESCH sent a letter to the U.S. Patent and Trademark Office commenting on proposed changes to the Trademark Trial and Appeal Board (TTAB) rules of practice. IPO requested clarification of several proposed rules regarding notice in opposition and cancellation proceedings. IPO also requested clarification on how a proposed requirement to serve discovery in time for it to be answered before discovery closes will alleviate motion practice as indicated in the background to the proposed rules. IPO opposed proposed rules requiring that documents filed on paper be accompanied by a fee and petition to the Director.
IPO's U.S. Trademark Office Practice Committee, and particularly, CHRIS GRAFF (Pirkey Barber), ALLISON S. RICKETTS (Fross Zelnick Lehrman & Zissu), TARA ROSNELL (Procter & Gamble), and LISA ULRICH (IBM), assisted with the comments.
USPTO SEEKS COMMENTS ON PROPOSED INCREASES TO TRADEMARK FEES
On Friday the USPTO issued a Federal Register notice requesting public comments on proposed fees related to trademark processing. In particular, the Office proposes to increase fees for a paper application from $225 to $600, per class, and other paper filings by between $100 and $200. Filing using the Trademark Electronic Application System (TEAS) would increase from $75 to $400. The increases are proposed "to ensure the fee schedule generates sufficient revenue to recover the prospective aggregate costs of Trademark and TTAB operations and associated administrative costs." The proposed fee levels should also "cover future budgetary requirements and maintain an operating reserve." The notice indicated that maintaining the current fee schedule would be unlikely to accomplish these requirements. IPO's U.S. Trademark Office Practice Committee will be reviewing the notice. Comments are due July 11.
IP IN THE MASS MEDIA
News Hour Reports on "Patent Trolls"

On Thursday PBS News Hour featured a segment titled "U.S. innovators dogged by money-grubbing 'patent trolls.'" The piece featured a discussion with 2015 IPO Education Foundation Inventor of the Year JAY WALKER.

WSJ Reviews New Book on Automobile Inventors' Rivalry

On Friday the Wall Street Journal reviewed LAWRENCE GOLDSTONE's "Drive! Henry Ford, George Seldon and the Race to Invent the Auto Age." The book chronicles the invention of the automobile and a patent infringement suit brought by Selden against Ford.
---
Law & Advocacy
Friday, February 21, 2014
2014 USPTO BUDGET WILL ALLOW HIRING, SATELLITE OFFICES
During the quarterly meeting of the USPTO's Patent Public Advisory Committee (PPAC), Chief Financial Officer TONY SCARDINO reported that the 2014 appropriations bill signed in January funds the USPTO at $3.024 billion – $90.8 million above the fiscal 2013 enacted level and $238.3 million above the fiscal 2013 sequestration level. The budget will allow the USPTO to hire 1,000 patent examiners and 63 administrative patent judges and provides funding related to opening satellite offices in San Jose, Denver, and Dallas. Projected 2014 spending is estimated at $2.948 billion. The White House will release its fiscal 2015 budget on March 4.
---
Member Advertisement
Innovator Insights
Innovator Insights is IPOEF's forum for inventors and other IP stakeholders to discuss their work, the role IP plays for them and to help educate the public on the link between strong IP protection and robust innovation.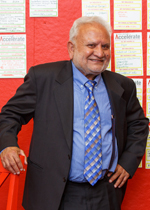 Anil Jha: Leading the World to More Eco-Friendly Water