IPO Daily News™
Wednesday, 22 February 2017
* * ACCUSED INFRINGER FAILED TO RAISE SUBSTANTIAL QUESTION OF PATENTABILITY TO AVOID PRELIMINARY INJUNCTION
Metalcraft of Mayville, Inc. v. The Toro Co. 16-2514 — On Thursday in an opinion by Judge MOORE, the Federal Circuit upheld a district court's preliminary injunction against Toro. Metalcraft's patent claimed a suspended operator platform for light utility vehicles like riding lawn mowers. Toro argued that the claims would have been obvious in light of a first prior art reference that disclosed shock absorption in a truck cab and a second that disclosed adjusting a damper spring in a rear-wheel motorcycle suspension. The district court said it could not imagine a reason, and Toro failed to offer one, to explain why a skilled artisan "would combine a motorcycle shock with a suspended truck cab and come up with a suspended operator platform."
The district court did not abuse its discretion in determining that Toro failed to raise a substantial question of patentability. Toro offered no explanation or reasoning for combining the references, which left only the "hindsight bias" KSR warned against. The Federal Circuit cautioned that hindsight bias could not be allowed to provide "the thread that stitches together prior art patches" into the claimed invention.
(1 to 4 stars rate impact of opinion on patent & trademark law)
IP IN THE MASS MEDIA
New Zealand Supreme Court Revokes Lacoste Crocodile Trademark

Yesterday the New Zealand Harold reported that the New Zealand Supreme Court revoked registration of Lacoste's crocodile image trademark in a suit brought by competitor Crocodile International, citing the French clothing company's lack of use of the mark "anywhere in the world."

U.S. Supreme Court Rejects Boston Scientific Appeal in Patent Licensing Dispute

Yesterday Yahoo! Finance reported that the U.S. Supreme Court rejected Boston Scientific Corp.'s appeal of a Maryland state court jury verdict ordering the medical device company to pay $308 million to patent licensor Mirowski Family Ventures for breach of contract concerning licensed patents related to implantable cardiac devices.
---
Law & Advocacy
Friday, February 21, 2014
2014 USPTO BUDGET WILL ALLOW HIRING, SATELLITE OFFICES
During the quarterly meeting of the USPTO's Patent Public Advisory Committee (PPAC), Chief Financial Officer TONY SCARDINO reported that the 2014 appropriations bill signed in January funds the USPTO at $3.024 billion – $90.8 million above the fiscal 2013 enacted level and $238.3 million above the fiscal 2013 sequestration level. The budget will allow the USPTO to hire 1,000 patent examiners and 63 administrative patent judges and provides funding related to opening satellite offices in San Jose, Denver, and Dallas. Projected 2014 spending is estimated at $2.948 billion. The White House will release its fiscal 2015 budget on March 4.
---
Member Advertisement
Innovator Insights
Innovator Insights is IPOEF's forum for inventors and other IP stakeholders to discuss their work, the role IP plays for them and to help educate the public on the link between strong IP protection and robust innovation.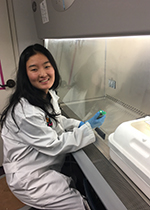 Marin Yamada, Student Inventor, and Elizabeth English of The Archer School for Girls