IPO Daily News™
Friday, 20 October 2017
* COURT UPHOLDS ITC CLAIM CONSTRUCTION, LIMITED EXCLUSION ORDER
Arista Net 2 Works, Inc. v. ITC, 16-2523 – In a 27 September opinion by Judge REYNA that was published on Wednesday, the Federal Circuit upheld an ITC determination that Arista violated section 337 of the Tariff Act. Cisco's patent claimed a router operating system that used a centralized database to manage network traffic. Arista argued that the ITC incorrectly construed the claims as requiring router configuration data, rather than user-supplied demands, to be stored in the database. Arista also challenged the scope of the ITC's limited exclusion order on the basis that the Commission's opinion did not specifically find that "components" of its products indirectly infringed.
The Federal Circuit said that Arista's proposed construction was contrary to the claims and the specification and that ambiguous language from the prosecution history could not "form the basis of a disavowal of claim scope." With regard to the limited exclusion order, the Commission's opinion expressly adopted the ALJ's determination that components of the accused products induced infringement of Cisco's patent. The Court also rejected Cisco's appeal of the ITC's finding that Arista did not infringe its patent for a logging module for securing a communications device.
(1 to 4 stars rate impact of opinion on patent & trademark law)
NEXT WEEK ON IPO'S IP CHAT CHANNEL™: SOVEREIGN IMMUNITY AT THE PTAB: GIMMICK OR GENIUS?
Tune in to the IP Chat Channel™ on Tuesday, 24 October, at 2:00 p.m. ET for Sovereign Immunity at the PTAB: Gimmick or Genius? When drug maker Allergan announced in early September that it had transferred patents on a best-selling eye drug to the Saint Regis Mohawk Tribe in upstate New York, IP experts were caught flat-footed. Allergan's move to sidestep an inter partes review at the PTAB by taking advantage of the Tribe's sovereign immunity brought patent law deep into unfamiliar territory.
The terrain might be strange, but many patent owners and petitioners now realize they need to understand the lay of the land. The St. Regis Tribe has also partnered with a company in the computer sector, making it clear that sovereign immunity is a challenge not only for generic drug companies but for any company threatened with patent assertion. Right now, deal makers far and wide are scrambling to do more transactions based on immunity. Our multi-disciplinary panel – BRENDAN JOHNSON (Robins Kaplan LLP), LISSI MOJICA (Brooks Kushman PC), and SHASHANK UPADHYE (Amin Talati Upadhye) — will address such questions as:
What is the nature of tribal immunity? Do Indian tribes offer special advantages in these deals, or could a patent   owner just as well make a deal for a state government to harbor patents?
What was the basis for the PTAB's earlier decisions this year to grant immunity to state university patent owners such as the University of Florida? How does tribal immunity differ from states' immunity?
Does it make a difference to the legal analysis that the St. Regis Tribe took ownership of patents that were already being challenged at the PTAB?
Will the PTAB's decision regarding the Allergan case be appealable?
IP Chat Channel webinars are recorded and available on our website after the live webinars. CLE granted in many states.
IP IN THE MASS MEDIA
German Court Upholds 3D Trademark on Ritter Sport's Square Chocolate Bar

Yesterday Fortune reported that the German Federal Court of Justice upheld Ritter Sport's 3D trademark for a square chocolate bar. The mark was challenged by Mondelez's Kraft, which owns the Milka line of chocolate bars.

Fortune Discusses Jazz Great's Trademark Suit against Brewery

An article published on Thursday in Fortune discusses a trademark infringement suit brought by THELONIOUS MONK's estate against North Coast Brewing Co. concerning the brewery's use of the jazz legend's name and image for its "Brother Thelonious Belgian Style Abbey Ale."
---
Law & Advocacy
Friday, February 21, 2014
2014 USPTO BUDGET WILL ALLOW HIRING, SATELLITE OFFICES
During the quarterly meeting of the USPTO's Patent Public Advisory Committee (PPAC), Chief Financial Officer TONY SCARDINO reported that the 2014 appropriations bill signed in January funds the USPTO at $3.024 billion – $90.8 million above the fiscal 2013 enacted level and $238.3 million above the fiscal 2013 sequestration level. The budget will allow the USPTO to hire 1,000 patent examiners and 63 administrative patent judges and provides funding related to opening satellite offices in San Jose, Denver, and Dallas. Projected 2014 spending is estimated at $2.948 billion. The White House will release its fiscal 2015 budget on March 4.
---
Member Advertisement
Innovator Insights
Innovator Insights is IPOEF's forum for inventors and other IP stakeholders to discuss their work, the role IP plays for them and to help educate the public on the link between strong IP protection and robust innovation.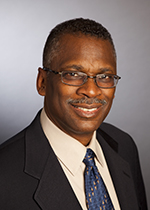 Lonnie Johnson, Johnson Research and Development