IPO Daily News™
Friday, 23 February 2018
SWEARING-IN CEREMONY FOR NEW USPTO DIRECTOR TO BE HELD TODAY AT USPTO
The U.S. Patent and Trademark Office will hold a ceremonial swearing-in for ANDREI IANCU, who was recently confirmed to be Under Secretary of Commerce for Intellectual Property and Director of the USPTO, this morning at 10:00a.m. ET at its Alexandria headquarters. The ceremony will be webcast.
FBI CYBER DIVISION TO PRESENT AT IP OWNERS SPRING SUMMIT
Attend the IP Owners Summit on 8 March in Washington, D.C. to learn about Cybersecurity in the Real World. KRISTEN LANE and ADAM LAWSON from the Federal Bureau of Investigation Cyber Division will discuss real-world examples of cyber adversaries targeting law firms and companies; provide an overview of recently observed tactics, techniques, and procedures used by cyber adversaries; and provide recommendations for increased awareness and to improve defenses. To view the full program and to register, visit www.ipo.org/SpringSummit18.
IP IN THE MASS MEDIA
Makers of Oscar-Nominated Movie The Shape of Water Sued for Copyright Infringement

On Wednesday the Hollywood Reporter reported that GUILLERMO DEL TORO and Fox Searchlight were sued for copyright infringement by the family of late author PAUL ZINDEL, who claim that the Oscar-nominated film The Shape of Water copies Zindel's play Let Me Hear You Whisper.

Hershey Accuses Cannabis Businesses of Trademark Infringement

Yesterday the Associated Press reported on The Hershey Co.'s trademark enforcement activities against two California cannabis businesses it says sell edibles with names that are confusingly similar to those of classic Hershey's candies.
WOMEN IN IP COMMITTEE ENCOURAGES MEN TO JOIN
IPO's Women in IP Committee encourages men to join the committee. Diversity of viewpoints is critical to its mission of promoting the advancement of women in IP law and overcoming unconscious bias. Current committee member ANDREW CURRIER, CEO of Perry + Currier Inc. offers Five Reasons Why Men (Yes, Men) Should Join the Women in IP Committee.
To learn more, contact a member of the leadership team: SHRUTI COSTALES (HP Inc.), LAURA SHERIDAN (Google LLC), or MERCEDES MEYER (Drinker Biddle & Reath LLP). Join the Women in IP Committee today to participate!
---
Law & Advocacy
Friday, February 21, 2014
2014 USPTO BUDGET WILL ALLOW HIRING, SATELLITE OFFICES
During the quarterly meeting of the USPTO's Patent Public Advisory Committee (PPAC), Chief Financial Officer TONY SCARDINO reported that the 2014 appropriations bill signed in January funds the USPTO at $3.024 billion – $90.8 million above the fiscal 2013 enacted level and $238.3 million above the fiscal 2013 sequestration level. The budget will allow the USPTO to hire 1,000 patent examiners and 63 administrative patent judges and provides funding related to opening satellite offices in San Jose, Denver, and Dallas. Projected 2014 spending is estimated at $2.948 billion. The White House will release its fiscal 2015 budget on March 4.
---
Member Advertisement
Innovator Insights
Innovator Insights is IPOEF's forum for inventors and other IP stakeholders to discuss their work, the role IP plays for them and to help educate the public on the link between strong IP protection and robust innovation.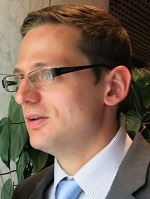 Robert Young, Professor, Lancaster University and Co-Founder/Chief Scientist, Quantum Base