IPO Daily News™
Thursday, 20 July 2017
IP IN THE MASS MEDIA
Bloomberg Reports on Appeal of Eastern District of Texas Venue Ruling

Today Bloomberg BNA reported on supercomputer maker Cray Inc.'s appeal seeking an order that U.S. District Judge RODNEY GILSTRAP transfer out of the Eastern District of Texas a suit brought against it by Raytheon claiming infringement of four patents related to supercomputer hardware and software. Gilstrap previously ruled that venue is proper in the district because a Cray work-at-home salesperson in the district constitutes a "regular and established place of business."

Amazon Updates Patent Provisions in Cloud Computing Customer Agreement

Yesterday CNBC reported that Amazon.com has eliminated a "non-assert" clause in its cloud computing customer agreement that prohibited customers from suing Amazon for patent infringement. The company has also indicated that it will defend customers who are sued for patent infringement related to its Amazon Web Services.

Spotify Sued for Copyright Infringement

Yesterday Pitchfork reported on copyright infringement suits brought against Spotify by Nashville-based publisher Bluewater Music Services Corporation and by songwriter and former member of Frankie Valli and the Four Seasons BOB GAUDIO claiming that the music streaming service streamed works from their catalogs without authorization.
TODAY ON IPO'S IP CHAT CHANNEL — WINNING ATTORNEY FEES: WHAT WORKS, WHAT DOESN'T
Tune in to the IP Chat Channel today at 2p.m. ET for Winning Attorney Fees: What Works, What Doesn't. Our panel of litigators – D. CLAY HOLLOWAY (Kilpatrick Townsend & Stockton LLP), LIONEL LAVENUE (Finnegan, Henderson, Farabow, Garrett & Dunner LLP), and ROBERT PALMERSHEIM (Honigman Miller Schwartz & Cohn LLP) – all have firsthand experience of patent litigation fee fights. IP Chat Channel webinars are recorded and available on our website after the live webinars. CLE granted in many states.
PCK IP TO SPONSOR IPO'S ANNUAL MEETING
PCK IP | Perry + Currier Inc. | Currier + Kao LLP will co-sponsor the Women in IP Networking Brunch at the 17-19 September IPO Annual Meeting in San Francisco.
---
Law & Advocacy
Friday, February 21, 2014
2014 USPTO BUDGET WILL ALLOW HIRING, SATELLITE OFFICES
During the quarterly meeting of the USPTO's Patent Public Advisory Committee (PPAC), Chief Financial Officer TONY SCARDINO reported that the 2014 appropriations bill signed in January funds the USPTO at $3.024 billion – $90.8 million above the fiscal 2013 enacted level and $238.3 million above the fiscal 2013 sequestration level. The budget will allow the USPTO to hire 1,000 patent examiners and 63 administrative patent judges and provides funding related to opening satellite offices in San Jose, Denver, and Dallas. Projected 2014 spending is estimated at $2.948 billion. The White House will release its fiscal 2015 budget on March 4.
---
Member Advertisement
Innovator Insights
Innovator Insights is IPOEF's forum for inventors and other IP stakeholders to discuss their work, the role IP plays for them and to help educate the public on the link between strong IP protection and robust innovation.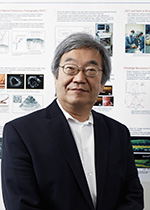 James G. Fujimoto, Department of Electrical Engineering and Computer Science, MIT