IPO Daily News™
Friday, 24 March 2017
HOUSE JUDICIARY LEADERS RELEASE REGISTER OF COPYRIGHTS SELECTION AND ACCOUNTABILITY ACT
Yesterday House Judiciary Committee Chairman BOB GOODLATTE (R-Va.) and Ranking Member JOHN CONYERS (D-Mich.), joined by 29 co-sponsors, introduced the Register of Copyrights Selection and Accountability Act. The bill changes the selection process for the Register, providing that that the Register of Copyrights shall be appointed by the President with the advice and consent of the Senate rather than selected by the Librarian of Congress. A press release on the Committee's website describes the bill as "the product of months of bicameral, bipartisan discussions led by Chairman Goodlatte, Ranking Member Conyers, Senate Judiciary Committee Chairman CHUCK GRASSLEY (R-Iowa), Ranking Member DIANNE FEINSTEIN (D-Calif.), and Senate Judiciary Committee Member PATRICK LEAHY (D-Vt.)."
IPO strongly supports the bill, which is consistent with the 2016 resolution adopted by the IPO Board stating that "Congress should ensure that the Copyright Office has the staffing, budget, information technology, flexibility, and autonomy it needs to meet the current and future demands of copyright owners and the public. This should be accomplished by, at the very least, passing legislation to require that the Register of the Office is a presidential nominee and that the Copyright Office is autonomous from the Library of Congress, including having its own budget and information technology systems separate from the Library of Congress." Executive Director MARK LAUROESCH said "this bill is an important first step toward modernizing the Copyright Office and giving it the autonomy it requires to deliver high quality services to its stakeholders."
* * EXCEPTIONAL PATENT CASE FINDING UNDER OCTANE FITNESS IS NOT BASED ON PRECISE FRAMEWORK
Univ. of Utah v. Max-Planck-Gesellschaft Zur Foerderung Der Wissenschaftent E.V. 16-1336 — Yesterday in an opinion by Judge REYNA, the Federal Circuit upheld a district court's denial of attorney fees. Planck's patents were directed to the RNA interference process, which is used to prevent certain genes from expressing proteins. After prevailing against Utah regarding Utah's inventorship claims, Planck sought attorney fees under Patent Act section 285. Planck argued that the district court failed to consider the Supreme Court's "framework" for finding a case exceptional under Octane Fitness.
The district court did not abuse its discretion in finding that Utah's conduct did not support an exceptional case finding under section 285. Octane Fitness did not provide any precise framework, but gave courts "discretion to make exceptional case determinations on a case-by-case basis, considering the totality of the circumstances." Here, the district court provided a thorough explanation that Utah's case was not objectively unreasonable and did not stand out from other patent cases.
(1 to 4 stars rate impact of opinion on patent & trademark law)
NEXT WEEK ON IPO'S IP CHAT CHANNEL: IPR ESTOPPEL IN DISTRICT COURT: HOW WIDE?
Tune in to the IP Chat Channel on Wednesday, 29 March, at 2:00p.m. ET to learn more about IPR Estoppel in District Court: How Wide? with panelists JON GURKA (Knobbe, Martens, Olson & Bear LLP), Hon. FAITH HOCHBERG (Hochberg ADR), and THAD KODISH (Fish & Richardson PC).
A year ago, in Shaw Industries v. Automated Creel Systems, the Federal Circuit held that estoppel does not apply to grounds denied by the PTAB in an IPR because the "IPR does not begin until it is instituted." Today, an uncomfortable stasis holds: District courts are interpreting Shaw to apply section 315(e)(2) one way, while the PTAB interprets nearly identical language in section 315(e)(1) in a different way that broadens IPR estoppel. Additionally, in Intellectual Ventures v. Toshiba late last year, a district court went further and refused to apply estoppel to "references that were never presented to the PTAB at all." It is not clear whether the Federal Circuit will confirm that view, or if it will feel obliged to define the boundaries of prior art that "reasonably could have been raised" as in section 315. Our panel will analyze the situation for both patent owners and petitioners and offer tactics on how both can best navigate the legal uncertainties.
IP Chat Channel webinars are recorded and available on our website after the live webinars. CLE granted in many states.
IP IN THE MASS MEDIA
Disney Sued on Claim it Copied "Zootopia"

On Wednesday The Hollywood Reporter reported that Disney was sued by Esplanade Productions and writer GARY GOLDMAN for copyright infringement, claiming Disney's "Zootopia" copies Goldman's themes, settings, plot, characters, and dialogue for a similar project that he previously pitched to the company.

Chery Automobile Files Trademark Complaint in China against Mercedes

Yesterday Fortune reported that Chinese automaker Chery Automobile filed a complaint with China's Trademark Office of the State Administration for Industry and Commerce against Mercedes-Benz, claiming that the German automaker's use of the "EQ" name for a line of green-energy vehicles is substantially similar to its "eQ" mark already in use for its two-door battery electric car.
---
Law & Advocacy
Friday, February 21, 2014
2014 USPTO BUDGET WILL ALLOW HIRING, SATELLITE OFFICES
During the quarterly meeting of the USPTO's Patent Public Advisory Committee (PPAC), Chief Financial Officer TONY SCARDINO reported that the 2014 appropriations bill signed in January funds the USPTO at $3.024 billion – $90.8 million above the fiscal 2013 enacted level and $238.3 million above the fiscal 2013 sequestration level. The budget will allow the USPTO to hire 1,000 patent examiners and 63 administrative patent judges and provides funding related to opening satellite offices in San Jose, Denver, and Dallas. Projected 2014 spending is estimated at $2.948 billion. The White House will release its fiscal 2015 budget on March 4.
---
Member Advertisement
Innovator Insights
Innovator Insights is IPOEF's forum for inventors and other IP stakeholders to discuss their work, the role IP plays for them and to help educate the public on the link between strong IP protection and robust innovation.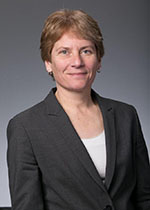 Carolyn Bertozzi, Professor of Chemistry, Stanford University