IPO Daily News™
Tuesday, 19 September 2017
NOLAN BUSHNELL ADDRESSES 45TH IPO ANNUAL MEETING
Yesterday morning NOLAN BUSHNELL, founder of Atari Corporation and Chuck E. Cheese's Pizza Time Theater, addressed the 45th IPO Annual Meeting during a keynote address. Bushnell, who ascribes to the "Silicon Valley ethic" of merit over process, discussed his philosophy about stimulating innovation and creativity. Bushnell said that because "intensity is almost always the precursor to creativity," he bases hiring decisions on finding passionate people. He noted that the truly innovative embrace failure, and he encouraged attendees to "embrace the different" by attending trade shows, conferences, and festivals to be exposed to what's happening in the world and to stimulate creative thinking.
TWO NEW MEMBERS ELECTED TO IPO BOARD
At the opening of yesterday's Annual Meeting plenary session IPO members elected
Alexion Pharmaceuticals (TODD SPALDING) and Nokia Inc. (RON ANTUSH) to the Board of Directors. Each will serve a 2-year term beginning 1 January 2018.
IPOEF LAUNCHES PR CAMPAIGN
IPO Education Foundation President LOUIS FOREMAN (Enventys) announced that the IPOEF is launching a public relations campaign to highlight the importance of IP rights. It will target education of the media as the first priority. He said that in a recent survey of over 400 IPO members more than half indicated that public awareness was one of the most important issues facing the industry today. He asked members to support the campaign by making a donation and thanked Finnegan Henderson for making the first and sizable donation.
Long standing programs such as the IP Video Contest, the Foundation Awards Dinner, the Innovator Insights blog, and the IP Patch would continue as well.
IPO EDUCATION FOUNDATION ANNOUNCES 2017 IP VIDEO CONTEST WINNERS
IPO Annual Meeting attendees got a sneak peek at the winning videos of this year's IP Video Contest winners during Monday's general session.
This year's winners are:
13-15 years old category:
• ANISSA KING; Oswego, Illinois
• WILL CUCULIS; Seven Valleys, Pennsylvania
16-18 years old category:
• KRIS HRISTOV; Wilmington, Delaware
• JAIME URDENATA; Katy, Texas
19 years and over category:
• DANIELLE LUPO; Gurnee, Illinois
The winning videos are posted on the IP Video Contest website, and the winners will be honored at this year's Foundation Awards Dinner in Washington, D.C. on 6 December.
IPO ANNUAL MEETING FEATURES DISCUSSION ON SECTION 101
Yesterday during the IPO Annual Meeting, in a session titled "Alice and the 101 Wonderland," moderator SUNJEEV SINGH SIKAND (RatnerPrestia) and panelists PAUL GOLIAN (Bristol-Myers Squibb Co.), DAVID JONES (Microsoft Corp.), DEBORAH MARTIN (Pfizer Inc.), and MANNY SCHECTER (IBM Corp.) discussed the law on patent subject matter eligibility. The panelists generally agreed that the state of the law following the U.S. Supreme Court's seminal Alice ruling has been a morass, creating uncertainty for businesses that is as of yet too difficult to quantify.
Jones suggested that it might take some businesses 10-15 years to determine the impact of Alice on innovation, and that the impact would likely vary by industry. Schecter said that although it was too early to have economic data, innovation resulted from investment in R&D, and that uncertainty in patent protection would have an effect the level of investment.
The panel discussed recent developments at the Federal Circuit, where similar cases had reached inconsistent results. Schecter noted the courts were stuck with a framework created by the Supreme Court that doesn't work, and that they would not be able to fix it. The panelists also discussed their companies' patent strategies, including changes to the way patents were written to include more technical detail. The panelists also agreed that their companies were able to get patents outside the U.S. on technologies that were not eligible in the U.S.
Finally, the panel discussed whether legislation was the appropriate solution. About two-thirds of the who responded to a live poll, and two-thirds of the panel, agreed that legislation would be necessary to amend section 101 to restore its proper scope and distinguish it from the requirements of patentability. The panel discussed IPO's legislative proposal in detail.
Sunjeev Singh Sikand (RatnerPrestia), Paul Golian (Bristol-Myers Squibb Co.), David Jones
(Microsoft Corp.), Deborah Martin (Pfizer Inc.), and Manny Schecter (IBM Corp.)
ANNUAL MEETING PANELISTS DISCUSS AI & BIG DATA
Yesterday afternoon during the IPO Annual Meeting panelists JONATHAN BRANDT (Adobe Research), FILKO PRUGO (O'Melveny & Myers, LLP), DANA RAO (Adobe Systems Inc.), and ERIC SUTTON (Oracle Corporation) discussed "Artificial Intelligence & Big Data: What to Patent, Whether to Patent." Brandt gave an overview of AI, which he defined as "the study of computing methods intended to perform functions of the human mind," and machine learning, "an AI technique to induce a particular computation from examples (data)." He noted that the purpose of AI was not to reproduce what happens in the human mind, but to create functions that accomplish things people's minds can accomplish. Although the process to develop technology with human capability was long, once it was achieved the technology rapidly advanced far beyond human capability.
Sutton presented the results of his study of artificial intelligence cases at the USPTO, which found an 87.5% allowance rate for patents filed 2011 and later. Based on his study of the data, Sutton suggested strategies for overcoming difficult rejections, particularly focusing on relevant technical details and emphasizing machine learning aspects of the invention in the specification and the claims.
Prugo discussed data-driven medicine and which aspects of AI-related technology can be patented. In the field of personalized or precision medicine, he said that the most valuable aspect of the technology was the outcome rather than the algorithm that inferred relationships or correlations.  Given the state of the law on subject matter eligibility, this was very challenging to patent.  He also discussed alternatives to patent protection such as trade secrets and regulatory exclusivity.
---
Law & Advocacy
Friday, February 21, 2014
2014 USPTO BUDGET WILL ALLOW HIRING, SATELLITE OFFICES
During the quarterly meeting of the USPTO's Patent Public Advisory Committee (PPAC), Chief Financial Officer TONY SCARDINO reported that the 2014 appropriations bill signed in January funds the USPTO at $3.024 billion – $90.8 million above the fiscal 2013 enacted level and $238.3 million above the fiscal 2013 sequestration level. The budget will allow the USPTO to hire 1,000 patent examiners and 63 administrative patent judges and provides funding related to opening satellite offices in San Jose, Denver, and Dallas. Projected 2014 spending is estimated at $2.948 billion. The White House will release its fiscal 2015 budget on March 4.
---
Member Advertisement
Innovator Insights
Innovator Insights is IPOEF's forum for inventors and other IP stakeholders to discuss their work, the role IP plays for them and to help educate the public on the link between strong IP protection and robust innovation.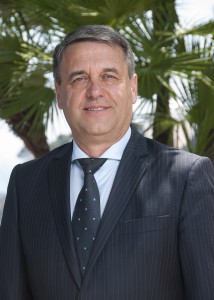 Mircea Tudor: Founder, Tudor Scan Tech