IPO Daily News™
Monday, 24 April 2017
IPO COMMENTS ON CHINA'S DRAFT ANTI-MONOPOLY GUIDELINES
On Friday IPO Executive Director MARK LAUROESCH sent a letter to China's State Council Anti-Monopoly Commission Office commenting on draft Anti-Monopoly Guidelines on Abuse of Intellectual Property Rights published 23 March. IPO agreed with the draft's use of the "rule of reason" analytical framework for assessing IP abuse and said some slight modifications would help ensure clarity and avoid misinterpretation. IPO suggested clarifying the guidelines for determining a dominant market position by evaluating, for example, the ability to reduce output and raise prices above competitive levels. The letter said the guidelines should make clear that a cross license by itself is not a restriction on competition and recommended clarifying that private standardization is not prohibited. IPO's Antitrust and Competition Law, Asian Practice, and Standards Setting Committees assisted with the comments.
THIS WEEK ON IPO'S IP CHAT CHANNEL — AFTER FORM 18: PLEADING INFRINGEMENT
Tune in to the IP Chat Channel on Thursday, 27 April, at 2:00p.m. ET for After Form 18: Pleading Infringement under the amended Federal Rules of Civil Procedure. Since late 2015, different district courts have embraced a variety of standards to conform with the pleading standard articulated by the U.S. Supreme Court in Bell Atlantic v. Twombly and Ashcroft v. Iqbal. Decisions vary case-to-case according to the patent and product, and from lenient to very strict. At one extreme, a district judge has held that a Form-18-style pleading is sufficient to meet current standards, while at the other end of the spectrum a court has required the plaintiff to allege facts showing infringement of every asserted claim.
Our panelists are NPE co-founder CHRIS FREEMAN (Blackbird Technologies) and law firm patent litigators DAVID DONOGHUE (Holland & Knight LLP) and MARK HANNEMANN (Shearman & Sterling LLP). They will analyze new challenges including defendants' need to reply to a detailed complaint with little time to prepare affirmative defenses such as invalidity. The panelists will also discuss how the Federal Circuit addressed the new pleading standard in Lyda v. CBS and whether more definitive guidance is likely to be forthcoming. IP Chat Channel webinars are recorded and available on our website after the live webinars. CLE granted in many states.
IP IN THE MASS MEDIA
Hanesbrands Sues Jacques Moret for Patent Infringement

On Thursday Fox News reported that Hanesbrands sued Jacques Moret, Inc., which sells bras under a Jockey International license, for infringing its patent on a bra design.

Exacta Systems Wins Trademark Suit Brought by Oaklawn Jockey Club

On Thursday Exacta Systems announced that the U.S. Court of Appeals for the Sixth Circuit upheld a lower court dismissal of a trademark infringement suit against it brought by Oaklawn Jockey Club and several Stronach Group racetracks, claiming that the horse racing game creator infringed their trademarks by using their racetracks' names to identify locations where historic horse races had taken place. (PR Newswire)
LEARN HOW TO INCORPORATE ENFORCEMENT AS PART OF YOUR IP STRATEGY
Join IPO at a one-day conference on 18 May in Paris, France to learn more about the panorama of preliminary injunctions in the U.S., UK, Germany, and France. Moderated by CYRA NARGOLWALLA (Cabinet Plasseraud in Paris, France), the panel includes: STUART BARAN (Three New Square in London, UK), TAMMY DUNN (Osha Liang LLP in Houston, Texas, U.S.), WILLEM HOYNG (Hoyng Rokh Monegier in Amsterdam, Netherlands), JASPER MEYER ZU RIEMSLOH (Wildanger Kehrwald Graf V. Schwerin & Partner in Düsseldorf, Germany), and JOHN PEGRAM (Fish & Richardson, PC in New York, New York, U.S.). To view the full program and to register, visit www.ipo.org/Europe17.
---
Law & Advocacy
Friday, February 21, 2014
2014 USPTO BUDGET WILL ALLOW HIRING, SATELLITE OFFICES
During the quarterly meeting of the USPTO's Patent Public Advisory Committee (PPAC), Chief Financial Officer TONY SCARDINO reported that the 2014 appropriations bill signed in January funds the USPTO at $3.024 billion – $90.8 million above the fiscal 2013 enacted level and $238.3 million above the fiscal 2013 sequestration level. The budget will allow the USPTO to hire 1,000 patent examiners and 63 administrative patent judges and provides funding related to opening satellite offices in San Jose, Denver, and Dallas. Projected 2014 spending is estimated at $2.948 billion. The White House will release its fiscal 2015 budget on March 4.
---
Member Advertisement
Innovator Insights
Innovator Insights is IPOEF's forum for inventors and other IP stakeholders to discuss their work, the role IP plays for them and to help educate the public on the link between strong IP protection and robust innovation.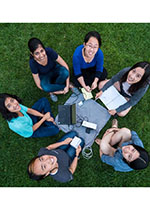 Team Tactile, Massachusetts Institute of Technology