IPO Daily News™
Wednesday, 20 September 2017
MATAL ADDRESSES 45TH IPO ANNUAL MEETING
Yesterday JOE MATAL, Performing the Functions and Duties of the Director of the United States Patent and Trademark Office, gave the keynote address during IPO's 45th Annual Meeting. Matal predicted that the U.S. Supreme Court will reach a unanimous decision in Oil States, upholding the constitutionality of the USPTO's Inter Partes Review proceedings. Although patent rights are unarguably private rights, he said, the case would turn on Congress's authority to determine how a right created by a federal statutory scheme was adjudicated. He encouraged anyone with concerns about the fairness of the post grant proceedings to continue to work with the USPTO to find the proper balance, noting that the America Invents Act gave the Office the authority to adjust its procedures as needed.
Matal also predicted that Congress will revisit the outcomes of Mayo and Myriad decisions on patent subject matter eligibility before the current session ends in December 2018. The USPTO had held roundtables and received comments from stakeholders about the state of the law and determined that there was no disagreement that change was needed to preserve eligibility of inventions in the life sciences. He suggested that legislation was the only viable solution to undo the impact those Supreme Court decisions have had on innovation.
IPO'S PRESIDENT'S DISTINGUISHED SERVICE AWARD RENAMED IN MEMORY OF CARL B. HORTON
Yesterday President KEVIN RHODES announced the unanimous decision by the IPO Board of Directors to rename the President's Distinguished Service Award in honor of CARL B. HORTON, who passed away on 31 December 2016 after a brave fight against brain cancer. Carl was Vice President and Chief IP Counsel of General Electric Co., and Vice President of IPO. Carl's leadership and commitment to IPO made him a remarkable colleague to have on the Board of Directors. His dedication to improving the patent system made him a giant in the intellectual property world. A short video about Carl's legacy was shown during Tuesday's opening session at IPO's Annual Meeting.
JOHNSON RECEIVES CARL B. HORTON DISTINGUISHED SERVICE AWARD
Yesterday President KEVIN RHODES presented the Carl B. Horton Distinguished Service Award to PHIL JOHNSON, immediate past-president of IPO, for his extraordinary leadership and dedication to IPO and the IPO Education Foundation. Under Phil's leadership, IPO and IPO Education Foundation accomplished a great deal including securing a grant to host an International Judges Conference in Brussels, Belgium and forming the vision for the now highly attended Foundation Awards Dinner. As president of IPO, the organization reached consensus on countless resolutions to advocate positions on Capitol Hill, implemented a strategic plan, furthered international patent harmonization efforts, improved the standing IP committees, and hired the first new Executive Director in 32 years after the retirement of HERB WAMSLEY.
2017 OUTSTANDING COMMITTEE OF THE YEAR AWARDS PRESENTED AT ANNUAL MEETING
IPO President KEVIN RHODES (3M Innovative Properties Co.) congratulated the winners of the 2017 Outstanding Committee of the Year during Tuesday's opening session. Two committees received the award: The U.S. Patent Office Practice Committee drafted five sets of comments in response to USPTO Federal Register notices, participated in IPO's Section 101 Legislation Task Force, which proposed a resolution adopted by the IPO Board of Directors, and held an annual meeting with the USPTO Commissioner for Patents and his leadership team to discuss issues of interest or concern to IPO members and provide feedback on USPTO policies and practices.
Committee Chair KAVEH RASHIDI-RAZD (Siemens) and Vice Chair COURTENAY BRINCKERHOFF (Foley & Lardner) accepted the award on behalf of the committee. Not present were Vice Chairs KEVIN GREENLEAF (Dentons) and SUNJEEV SIKAND (RatnerPrestia), and Secretary AAMIR HAQ (Hewlett Packard Enterprise).
Rashidi-Razd, Rhodes, and Brinckerhoff
The Asian Practice Committee is incredibly diligent in identifying and responding to requests for public input with short turn-around times, including obtaining English translations and translating IPO's comments into Mandarin. They have been instrumental in helping IPO to develop and increase bilateral relationships with foreign patent offices, administrative agencies, and local associations. The committee has traveled to China, Korea, Japan, and India. This year will be the 14th year the committee will travel to China. They support IPO's international efforts by attending various international meetings including the Global Dossier, Trilateral, IP5, and SIPO and JPO-US Bar Liaison Council meetings.
Committee Chair LARRY WELCH (Eli Lilly and Co.), Vice Chairs STEPHEN BAUER (Medtronic) and MICHAEL D'AURELIO (Thomas Horstemeyer), and Secretary MICHELLE SHEN (Medtronic) accepted the award on behalf of the committee. Not present were Vice Chairs JIMMY CHENG (Qualcomm) and BOB SIMINSKI (Harness, Dickey & Pierce), and Secretary BRAD YEE CHIN (Bracewell).
D'Aurelio, Rhodes, Welch, Shen, and Bauer
PTAB CHIEF JUDGE SHARES IPR, PGR, CBM STATISTICS
Yesterday during a session titled "Hot Topics in AIA Trials," USPTO Patent Trial and Appeal Board Chief Judge DAVID RUSCHKE presented Inter Partes Review, Post Grant Review, and Covered Business Method Review statistics through 31 August 2017. His slides are available on the USPTO website. Since the trials became available in 2012, the USPTO has received 7,429 petitions. Of that total, 92% were IPR petitions, 7% were CBM petitions, and 1% were PGR petitions. Only 3,774 proceedings were instituted.
Ruschke also discussed institution rates, pre- and post- institution settlements, and presented the "waterfall" slide showing the status of every petition filed since the beginning of AIA. Of the 1,733 petitions that had reached a final written decision, 65% had found all instituted claims of the patent unpatentable, 19% had found all instituted claims of the patent patentable, and 16% had had mixed results.
---
Law & Advocacy
Friday, February 21, 2014
2014 USPTO BUDGET WILL ALLOW HIRING, SATELLITE OFFICES
During the quarterly meeting of the USPTO's Patent Public Advisory Committee (PPAC), Chief Financial Officer TONY SCARDINO reported that the 2014 appropriations bill signed in January funds the USPTO at $3.024 billion – $90.8 million above the fiscal 2013 enacted level and $238.3 million above the fiscal 2013 sequestration level. The budget will allow the USPTO to hire 1,000 patent examiners and 63 administrative patent judges and provides funding related to opening satellite offices in San Jose, Denver, and Dallas. Projected 2014 spending is estimated at $2.948 billion. The White House will release its fiscal 2015 budget on March 4.
---
Member Advertisement
Innovator Insights
Innovator Insights is IPOEF's forum for inventors and other IP stakeholders to discuss their work, the role IP plays for them and to help educate the public on the link between strong IP protection and robust innovation.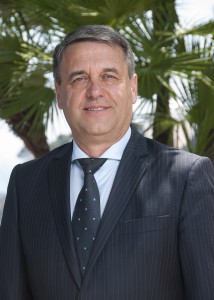 Mircea Tudor: Founder, Tudor Scan Tech