IPO Daily News™
Monday, 27 March 2017
U.S. SUPREME COURT TO HEAR ARGUMENTS CONCERNING VENUE IN PATENT CASES
Today the U.S. Supreme Court will hear arguments in TC Heartland LLC v. Kraft Food Brands Group LLC (16-341). Kraft's patents were for shelf-stable, flavored liquid beverage concentrates and packaging. Kraft sued Heartland in the U.S. District Court for the District of Delaware. Heartland moved to transfer to the Southern District of Indiana, arguing that it was not registered to do business, had no local presence, and had not entered into any supply contracts in Delaware.
The district court rejected Heartland's argument that the law governing venue for patent infringement suits in VE Holding had been nullified by Congress. The Federal Circuit agreed that "[t]he arguments raised regarding venue have been firmly resolved by VE Holding, a settled precedent for 25 years." At issue before the Supreme Court is whether the patent venue statute "is the sole and exclusive provision governing venue in patent infringement actions."
THIS WEEK ON IPO'S IP CHAT CHANNEL: IPR ESTOPPEL IN DISTRICT COURT: HOW WIDE?
Tune in to the IP Chat Channel on Wednesday, 29 March, at 2:00p.m. ET for IPR Estoppel in District Court: How Wide? A year ago, in Shaw Industries v. Automated Creel Systems, the Federal Circuit held that estoppel does not apply to grounds denied by the PTAB in an IPR because the "IPR does not begin until it is instituted." Today, an uncomfortable stasis holds: District courts are interpreting Shaw to apply section 315(e)(2) one way, while the PTAB interprets nearly identical language in section 315(e)(1) in a different way that broadens IPR estoppel.
Additionally, in Intellectual Ventures v. Toshiba late last year, a district court went further and refused to apply estoppel to "references that were never presented to the PTAB at all." It is not clear at present whether the Federal Circuit will confirm that view, or if it will feel obliged to define the boundaries of prior art that "reasonably could have been raised" as in section 315. Panelists JON GURKA (Knobbe, Martens, Olson & Bear LLP), Hon. FAITH HOCHBERG (Hochberg ADR), and THAD KODISH (Fish & Richardson PC) will analyze the situation for both patent owners and petitioners and offer tactics on how both can best navigate the legal uncertainties.
IP Chat Channel webinars are recorded and available on our website after the live webinars. CLE granted in many states.
IP IN THE MASS MEDIA
Bentley Loses Opposition to Same-Name Mark for Clothing in UK

Last week The Fashion Law blog reported that luxury automobile maker Bentley Motors lost an opposition filed at the United Kingdom Intellectual Property Office against Manchester-based Bentley Clothing Company after failing to provide evidence of use of its "Bentley" trademark in connection with garments and the sale of garments.

Sanofi Sues Amgen on Eczema Drug Patent

Last week the Boston Business Journal reported that Sanofi-Genzyme and partner Regeneron Pharmaceuticals filed a declaratory judgement suit against Amgen seeking a determination that its soon-to-be-released eczema drug Dupixent does not infringe an Amgen patent.
WILDANGER KEHRWALD GRAF V. SCHWERIN & PARTNER MBB TO SPONSOR IPO'S EUROPEAN PRACTICE CONFERENCE ON IP STRATEGY
Wildanger Kehrwald Graf v. Schwerin & Partner mbB will sponsor IPO's European Practice Conference on IP Strategy on 18 May in Paris, France. Speakers will explore topics such as IP strategies for the U.S., the current status of the Unitary Patent Package, the "pemetrexed" decisions in UK and Germany, preliminary injunctions, how recent FRAND decisions affect licensing, and what impact the UPC will have on licensing. To view the full program and to register, visit www.ipo.org/Europe17.
---
Law & Advocacy
Friday, February 21, 2014
2014 USPTO BUDGET WILL ALLOW HIRING, SATELLITE OFFICES
During the quarterly meeting of the USPTO's Patent Public Advisory Committee (PPAC), Chief Financial Officer TONY SCARDINO reported that the 2014 appropriations bill signed in January funds the USPTO at $3.024 billion – $90.8 million above the fiscal 2013 enacted level and $238.3 million above the fiscal 2013 sequestration level. The budget will allow the USPTO to hire 1,000 patent examiners and 63 administrative patent judges and provides funding related to opening satellite offices in San Jose, Denver, and Dallas. Projected 2014 spending is estimated at $2.948 billion. The White House will release its fiscal 2015 budget on March 4.
---
Member Advertisement
Innovator Insights
Innovator Insights is IPOEF's forum for inventors and other IP stakeholders to discuss their work, the role IP plays for them and to help educate the public on the link between strong IP protection and robust innovation.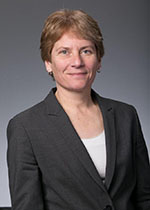 Carolyn Bertozzi, Professor of Chemistry, Stanford University